UltraCULTURE
TM
Serum-free Medium
UltraCULTURE
TM
Serum-free medium, without L-Glutamine, 500 mL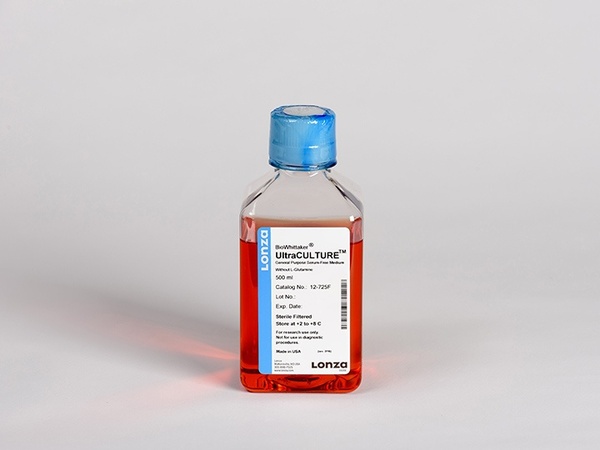 Product Overview
UltraCULTURETM Serum-free Medium is a complete, allpurpose medium designed for the cultivation of a wide variety of adherent and non-adherent mammalian cell types. UltraCULTURETM Medium can be used to support fusion of cells during hybridoma formation, growth of monocyte, macrophage, epithelial, and fibroblastic cell lines.

The medium is supplemented with recombinant human insulin, bovine transferrin, and a purified mixture of bovine serum proteins. The total protein concentration of UltraCULTURETM Medium is approximately 3 mg/ml.
UltraCULTURETM Medium can be supplemented with Cryoprotective Medium (Cat. No. 12-132A) to cryopreserve cells in a serum-free environment.
UltraCULTURETM Medium does not contain L-glutamine; please add 5 ml of 200 mM L-glutamine solution (Cat. Nos. 17-605 or 17-905) prior to use.
The formulation for UltraCULTURETM Medium has been submitted to the FDA as a Master File. Permission to crossreference the Master File may be obtained by contacting the Regulatory Affairs Department.
Turbidity may develop in UltraCULTURETM Medium; experiments have determined that the turbidity will not alter the performance of the product
All BioWhittakerTM Cell Culture Media products are for Research Use Only (RUO) and are not approved for human or veterinary use or for use in clinical or in vitro diagnostic procedures. If you require GMP grade media, contact Lonza for more details.
Benefits
General purpose medium to replace Serum

Applications

Cultivation of adherent and non-adherent mammalian cells

Generation of viral particles for vaccine production

Clinical immunotherapy applications
Content & Storage
Content
500ml bottle